Sigma 14mm f1.4 DG DN Art review
Intro
The Sigma 14mm f1.4 DG DN Art is an ultra wide-angle lens with a bright aperture designed for full-frame mirrorless cameras. In fact it's the fastest non-fisheye 14 to date, making it perfect for astro-photography but also ideal for dim interiors or dramatic photos and video.
At the time I made this review, it was available for Sony e and Leica L mounts, the latter working on Panasonic Lumix S bodies. Come on Canon and Nikon, your systems would really benefit from opening fully to third party lenses like these.
Announced in June 2023, the 14 1.4 becomes the sixth and widest DG DN mirrorless lens in Sigma's high-end Art series, joining the existing 20, 24, 35, 50 and 85 models, all sharing the same fast f1.4 aperture. In my video review below I'll show you my full tests and results from the lens, but if you prefer to read the written highlights, keep scrolling!
If you're an L-mount owner, the Sigma 14 1.4 is pretty unique, with only Panasonic's own 14-28 extending as wide in a true native mount, albeit as a zoom with a much dimmer f4-5.6 aperture.
Sigma also have their older 14 1.8 prime and 14-24 2.8 zoom, adapted from earlier DSLR versions and available in multiple mounts.
But if you're in the e-mount system, by far the biggest rival will be Sony's own FE 14mm f1.8 G Master which arrived two years previously and costs roughly the same at around $1400-1500 or pounds.
I reviewed Sony's 14 1.8 back then and even two years later it represents tough competition, an excellent performer at a similar price. So Sigma's new 14 1.4 better be good. In my review I'll show you what it can do and how it compares.
First things first: in a World when many new lenses are touted as being smaller or lighter, the Sigma 14 1.4 is unapologetically substantial. Measuring just over 100mm in diameter and 150mm long, it makes Sony's 14 1.8 look quite compact. More dramatic though is the weight: at 1.17kg, the Sigma is more than double the weight of the Sony, making it much less practical for handheld or gimbal work, so you really have to want that slightly brighter aperture.
Just look at the Sony 14 in comparison. Sure it's not quite as bright at f1.8, but it sure is considerably more compact and usable handheld.
Sigma realises this and pitches the 14 as being optimised for astro-photography where you'll be shooting from a tripod. Indeed it's supplied with a collar and tripod foot, sensibly taking the strain rather than your camera's lens mount.
The collar allows you to rotate the barrel, albeit sadly lacking any tactile feedback at 90 degree intervals. But in some consolation, the foot has an Arca-Swiss dovetail, allowing you to slide it right into a compatible clamp, and if you are handholding the lens, you can remove the collar to reduce the load a little.
This reveals some mounting holes, but in the first of several small but considerate moves, Sigma supplies a rubber ring to cover them up and present a tidier-looking barrel.
Closest to the lens mount is an aperture ring from 1.4 to 16 in one third increments with a lockable A position for body-based control. Like other Art lenses and the Sony, this is de-clickable for smooth and silent adjustments.
Towards the end of the barrel is a very smooth and well-damped manual focusing ring, and sandwiched between this and the aperture ring are three switches and a button.
From top to bottom, there's a switch for auto or manual focus, a customisable AF Lock button, a switch that handily disables the manual focusing ring altogether, and finally the switch to declick the aperture ring.
Unlike many lenses that can be used for astro, the Sigma 14 is designed for it with a number of considerate features. You already know about the switch that disables the manual focusing ring entirely, preventing any unwanted knocks once you've painstakingly set it to infinity. And speaking of which, the focusing mechanism has plenty of latitude on either side to ensure you will achieve infinity.
Recognising the risk of condensation during a long night of astrophotography, Sigma's also included a ridge around the end of the barrel to help secure heating strips.
Like most ultra-wide lenses, there's a built-in petal hood, but unlike the usual friction-based caps of models like the Sony, Sigma's designed one that can actually clip onto the end of the barrel and stay in place.
Better still, the spring-loaded mechanism in the cap also doubles as storage on the inside for a pair of soft filters. Yep, like most lenses with this kind of bulbous front element, the 14 1.4 accommodates filters at the mount-end and Sigma supplies a stencil for you to cut-out your own. This is no different to the Sony 14, but the ability to store a couple of these in the cap is a really nice touch.
As an Art lens that's also made in Japan, it won't surprise you that the build quality is excellent and it's weather-sealed throughout. So while the lens is undeniably substantial, especially with the tripod foot, think of it as being reassuringly hefty and designed to excel at a job – and while Sigma pitches it for distant astro-photography, you'll see it also performs well in daylight, near and far, and even for vlogging if you dare.
Ok let's start with focusing and you're seeing the Sigma 14 1.4 on a Sony A7 IV which I used for all my tests. This is a single AF area first in Single AFS mode where the lens is focusing very quickly and confidently without a wobble. Switch the camera to Continuous AFC mode and it looks equally good to me, and similar to the Sony 14 1.8.
For good measure, here's the same test for video, again on the A7 IV in Continuous AFC mode, and again showing confident refocusing between the bottle close to the lens and the wall behind it.
Next for a focus breathing test with the lens closed to f16 and manually focusing from infinity to the closest distance and back again. You'll notice the field of view doesn't actually change that much, but unusually that barrel distortion becomes more pronounced, making the centre appear to stretch further away.
Not ideal, unless you like Warp Drive or Vertigo style special effects, but equally something you're unlikely to come across when using the lens.
That said, here's the Sony 14 in comparison which exhibits a much more conventional reduction in the overall field of view without the stretching effect.
Ok now for my Sigma 14 1.4 optical results and I wanted to start by showing you an image taken straight from the camera without any lens corrections, and now one with Distortion Compensation set to Auto on the Sony, which is how it's meant to be used.
As I toggle between them, you'll see there's minimal correction taking place considering the extreme nature of the lens, just a mild tweak to compensate for some barrel distortion with an equally mild crop as a result. When I compare the coverage with compensation applied, it looks essentially identical to the Sony 14 1.8, so no compromise to worry about.
From this point on all my results are shown with Distortion Compensation set to Auto, again how the lens is designed to be used.
Sigma says the lens is optimised for distant subjects like astro and I'll be showing you some of that in a moment, but this should also make it adept at landscapes, so here's my standard test scene, which you can compare against the same view in my other reviews. It's angled so that details run into the corners.
You're looking at the lens wide-open to f1.4, and if we zoom-in for a closer look in the middle of the frame where the camera was focused, you'll see a tremendous amount of detail and there's no significant boost to be gained by closing the aperture.
Heading out into the far corner unsurprisingly results in some darkening due to vignetting but there's minimal loss of sharpness here, with excellent detail out of the gate.
As you close the aperture one stop at a time, the vignetting quickly lifts, leaving a clean frame with a mild boost in detail at f5.6 to f8.
If you're shooting a landscape, you'll enjoy the best results with the aperture closed down a little, but the headline here is the lens performing very well at the maximum aperture. Comparing it to my results from the Sony 14 1.8 shows both lenses delivering similar detail and sharpness across the frame.
To see how this translates to astrophotography, I headed up to the South Downs, the nearest darkish location to where I'm based in Brighton.
Here's a five second exposure at 400 ISO with the lens wide open to f1.4, where you can see the Summer sky, young Moon and light pollution of Brighton all conspiring against me, but there's still some stars visible, and I've boosted the whites and highlights on the RAW file to make them clearer.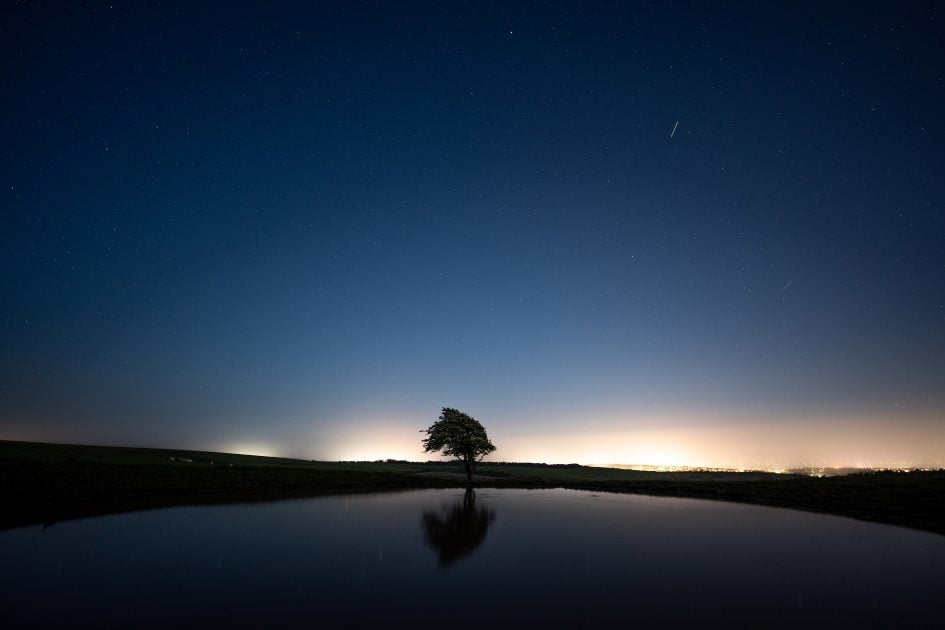 The detail in the middle is well-corrected as expected, and moving into the far corner also shows the stars remaining well-behaved. I'd say this is an excellent result for the Sigma lens, proving it's a desirable option for wide-field astro.

But so's the Sony 14 1.8, seen here from the same location, albeit at a different time of year and mounted on the Alpha 1 rather than an A7 IV.

Place the corner crops of the Sigma on the left and the Sony on the right, when both lenses are wide open shows little to choose between them, although with an aperture that's two thirds of a stop faster, the Sigma will allow correspondingly shorter exposures or lower ISOs as a result.

And don't forget the physical extras on the Sigma, like the manual focus lock, wide focus range, filter holder and ridge to stop a heat strip from slipping. These all make it more desirable for astro overall.

Next for a quick portrait shot, taken as a selfie with the 14 1.4, of course wide-open to f1.4 where you can get an idea not just of the broad coverage, but also the shallow depth of field in the background.

Looking closer shows the focused areas to be crisp and the blurred ones to be satisfyingly rendered, even with this potentially busy background.

Despite the heft of the lens, I couldn't resist trying it out for a quick vlogging test, here using IBIS sensor shift stabilisation on the A7 IV alone, and what really struck me was the almost three dimensional look to the image.

For a steadier result, here's some footage filmed with Active SteadyShot on the A7 IV, which takes a small crop in return for additional digital compensation. The view was so wide to start with that the cropped version is still pretty expansive.

I initially filmed this as a bit of a laugh, as I couldn't imagine anyone actually vlogging with a lens this size, but the results looked so good, I repeated the test in The Lanes of Brighton, where again you'll see the almost 3D pop of the subject with a beautifully rendered background behind it.

And again with both IBIS and Active SteadyShot, taking a mild crop to deliver smoother footage. The size and weight makes the lens less than ideal for this kind of thing, but I loved the results so wanted to show you.

The lens may be optimised for distant subjects, but still turns in respectable performance at close range. My ruler was photographed from the minimum focusing distance quoted as 30cm, where the lens has reproduced just under 30cm across the frame, and when closed to f8 here, the results are pretty crisp too right up to the edges.

From this distance, the large aperture can also deliver more background blur than you might expect. Here's my ornament test from near to the closest focusing distance with the aperture wide open, and taking a closer look reveals mostly well-behaved bokeh blobs.

There's minor textures in some of them, but it's nothing like the onion ringing of others, and there's no outlining to mention.

As I close the aperture one stop at a time you'll see the shapes becoming more uniform across the frame and occasionally hinting at the geometric shape of the 11-bladed system.

For comparison, here's mild crops from the Sigma on the left and the Sony 14 1.8 on the right, both at their maximum apertures and closest focusing distances. They were taken at different times, but you can see their rendering styles are quite similar here, albeit with slightly larger blobs from the Sigma as you'd expect from its slightly larger aperture.

At the other end of the scale, here's the Sigma 14 closed to f16 and pointed at The Sun, where you can see the aperture blades delivering well-defined diffraction spikes.

And for comparison, here's the Sigma on the left versus the Sony on the right, both at f16 and on different days, but again you can see their diffraction spikes looking pretty similar here.

Just for fun, here's a video demo of the Sigma's full aperture range from 1.4 to 16 and back again, with the aperture declicked for smooth operation, where you can see the impact of the diaphragm system with point sources of light – albeit a slightly fuzzier one here due to the conditions.

In fact while Sigma is keen to tell you the lens is optimised for astrophotography, I had a great time filming with it day and night, even handheld.

You've already seen how good it is for filming pieces to camera, but it was equally effective for huge dramatic views, and again with some opportunity for shallow depth of field effects from close range.

Check prices on the Sigma 14mm f1.4 DG DN Art at B&H, Adorama, WEX UK or Calumet.de. Alternatively get yourself a copy of my In Camera book, an official Cameralabs T-shirt or mug, or treat me to a coffee! Thanks!