Canon PowerShot V10 review
The Canon PowerShot V10 is a vlogging camera that combines the quality of the popular G7X III with a bunch of features tailor-made for those who love making videos.
Ultra wide lens, check! Flip screen? Got it. Decent built-in mics and the chance to connect an external microphone? Sure thing. 4k video from a sensor bigger than your phone? Of course! And all packed into a pocket-sized body with a cunning fold-out stand which means you'll rarely reach for a tripod again.
The PowerShot V10 was launched in May 2023, is available in a variety of kits depending on region, and Canon loaned me a pre-production model to try out, so in this review I'll show you what it can do! Everything including sample movies are in the video below, but if you'd prefer to read the written highlights, keep scrolling!
The V10 essentially takes the 1in type sensor from the popular G7X III, with its 20 Megapixel photos and 4k video, and repackages it in a much better shape for filming. Place the V10 alongside the G7X III and you'll see the V10 is a little smaller all-round, but more obviously designed to be held vertically. The narrower shape makes it much more comfortable to hold one-handed than the G7X series, not to mention more pocketable too, and before you ask, this is how you hold it when filming traditional horizontal videos. Both it and the G7X III can film vertical videos though if you turn them by 90 degrees.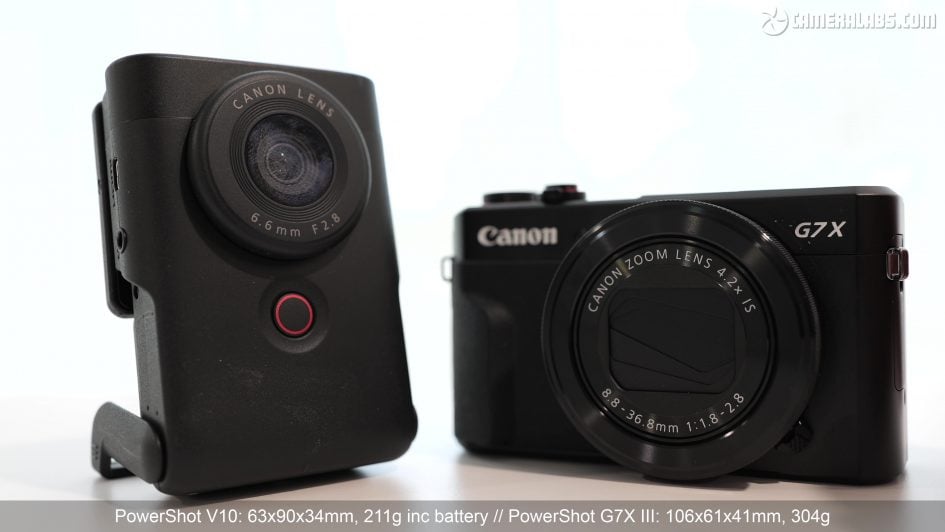 With its vertical design and large record button on the front, the V10 is certainly a departure from the traditional aesthetics of the G7X, and kind of looks like a shorter, wider version of a Ring smart doorbell. As such it may not be as conventionally attractive as a G7X, but it's certainly a lot more functional for filming vlogs.
But while its size and style may remind you of an action cam, the V10 doesn't share the robustness or waterproofing of, say, a GoPro, so be sure to use it like a standard camera.
Before delving-into detail, let's have a quick look around the body: on top are a pair of decent built-in stereo mics. Round the back are a selection of control buttons and a 2in touch screen which can flip forward to face you.
On one side is a USB C port for charging the internal battery or using the camera as a webcam, and on the other, a 3.5mm microphone input and Micro HDMI output. Meanwhile underneath are a standard tripod thread and a small compartment for MicroSD memory cards.
Oh and don't forget that cunning built-in stand which allows you to angle the camera up or down for quick and easy filming without mucking around with a tripod.
In fact the V10 appears to have ticked a lot of boxes desired by vloggers, so let's go into more detail. For starters, while the V10 shares essentially the same sensor as the G7X III, it's swapped the zoom for a much wider fixed lens, equivalent in coverage to 18mm or 19 for video with an aperture of f2.8.
But while you're losing the optical zoom and lens stabilisation of the G7X, the wider coverage is ultimately more desirable for many vlogging situations and provides plenty of latitude for digital stabilisation to be applied without the result looking too tightly cropped.
Canon's also equipped the V10's lens with a built-in three stop ND filter which can be set to on, off or auto in the menus for stills or video. It's a physical filter which you can hear click into the optical path when activated. Three stops may not be huge, but still allows more motion-friendly shutter speeds for video in brighter conditions than without.
A vlogging camera of course needs a screen that can face forward, and the V10's 2in panel flips-up by 180 degrees to do just that. It's obviously smaller than the screens on many cameras, so you have to tap carefully when using the touch controls, and with a 3:2 shaped panel you'll also have thin black bars above and below 16:9 videos, making the viewable image even smaller. This inevitably makes it harder to spot any wobbles or focus issues, so be careful with your technique.
A good vlog camera also needs decent audio and the V10 has you covered with a pair of decent built-in stereo microphones on the top, as well as a 3.5mm input for an external mic on the side. The V10 body may not be able to directly mount wind mufflers or external mics, but Canon's partnered with Smallrig to provide a bunch of optional accessories from day one. Depending on your region, these may come as various kits, or you might be able to buy them direct.
There's an optional mini cage which clips around the V10, providing it with three more quarter-inch tripod threads along with duplicating the existing one below. This also comes with two cold shoe adapters which screw into the threads, allowing you to mount accessories like mics or wireless receivers, such as the Rode Wireless ME seen here.
While the V10 can be transported without a lens cap, Smallrig has also made a small rubber cap that slips over and is held by friction.
If you're planning on filming outside with the built-in mics, the most useful accessories will be the wind mufflers. Smallrig supplies these with a pair of metal rings which you first stick to the top of the camera, after which the fluffy part simply attaches magnetically. Strong enough to be secure, but easy to pull off when not in use.
It would of course have been neater if the camera body didn't need the stick-on rings at all, or perhaps had included a bayonet fitting for something like the Rode Wireless Go mufflers, but at least there is a solution from day-one. Oh and they won't block the cage if you want to use them at the same time.
Now for a quick look through the menus and modes. The V10 has four main modes: Auto Movie, Smooth Skin Movie, Movie IS Mode and Manual Exposure Mode.
Interestingly, Auto mode has image stabilisation disabled by default, although you can enable either of the two IS modes from the menus if you prefer. Conversely, Movie IS mode defaults to the most powerful Enhanced stabilisation option, but again you can adjust this in the menu.
Smooth Skin mode applies a digital smoothing effect with five levels. The default is in the middle, but to me still looked a little unnatural – your mileage will vary!
Manual mode gives you control over the shutter and aperture, although you will need to tap the settings icon first before adjusting each value separately. That said, I generally set the camera to 1/50 for the shutter, f2.8 for the aperture and leave it at Auto for ISO and ND, so there was no need to keep making adjustments.
Tapping the top left icon, or pushing the squiggly button toggles between movie and photo modes. Yes, while the V10 is primarily designed for video, it can also take 20 Megapixel photos. Here's a small selection I took with my beta test sample.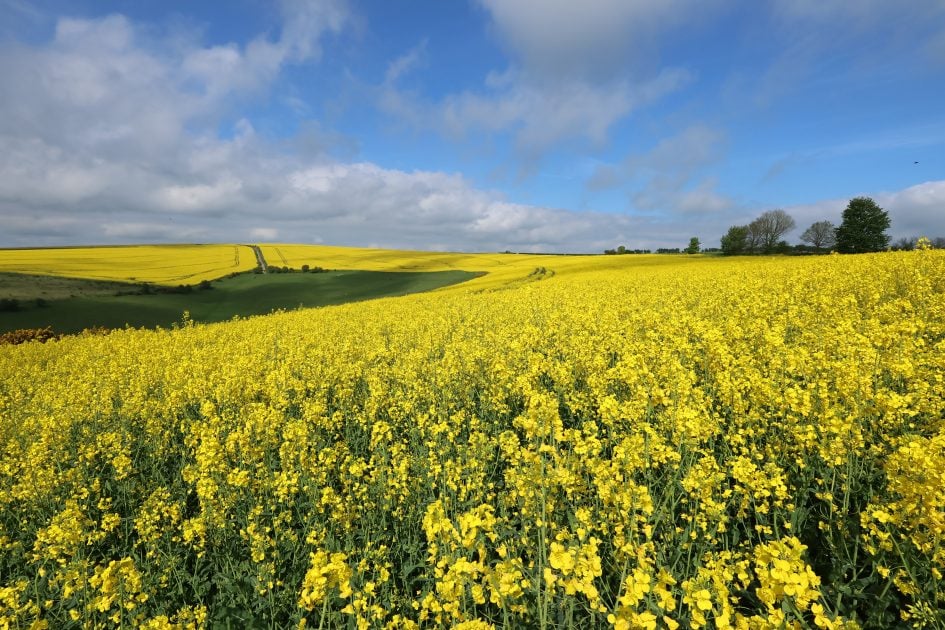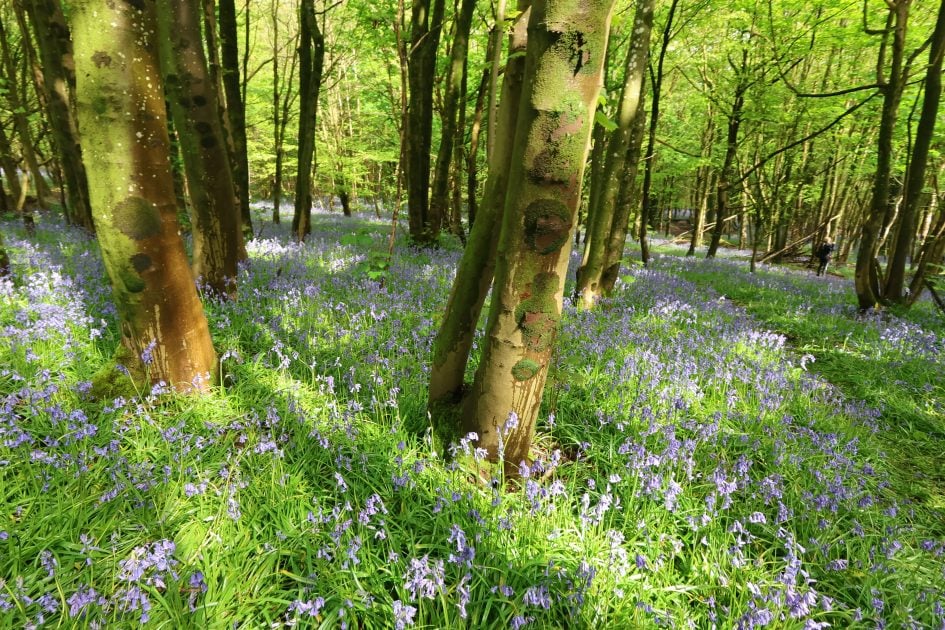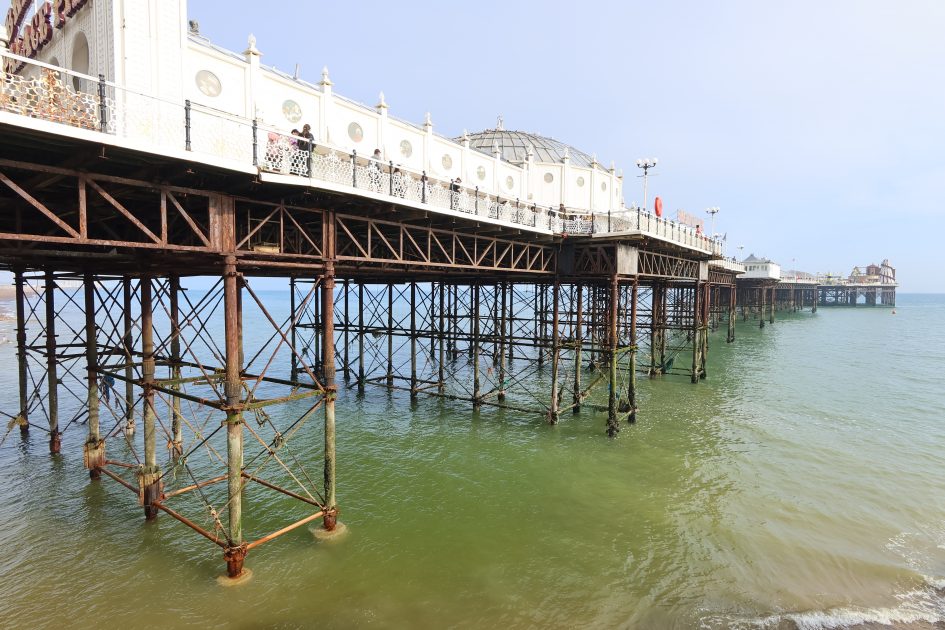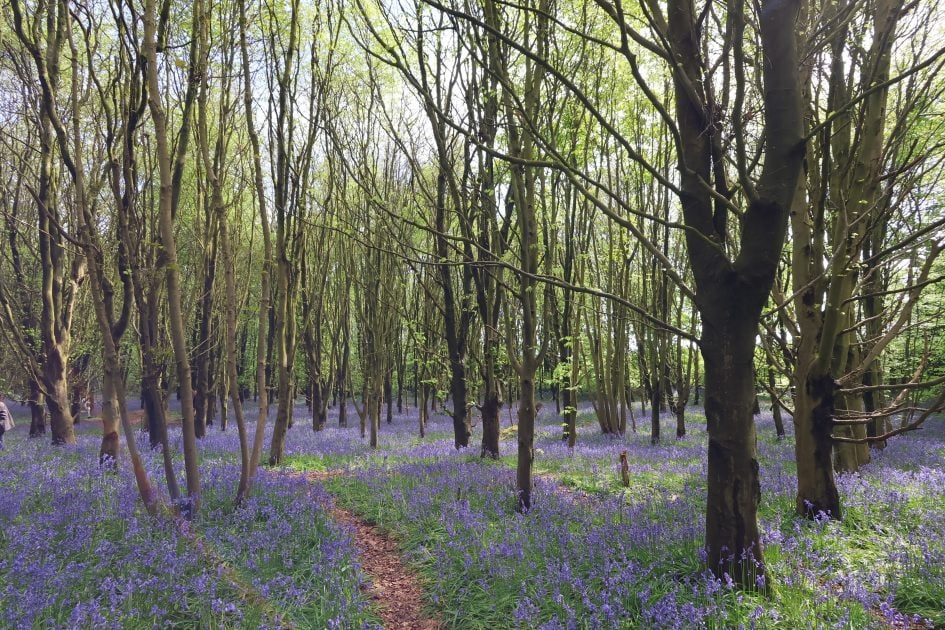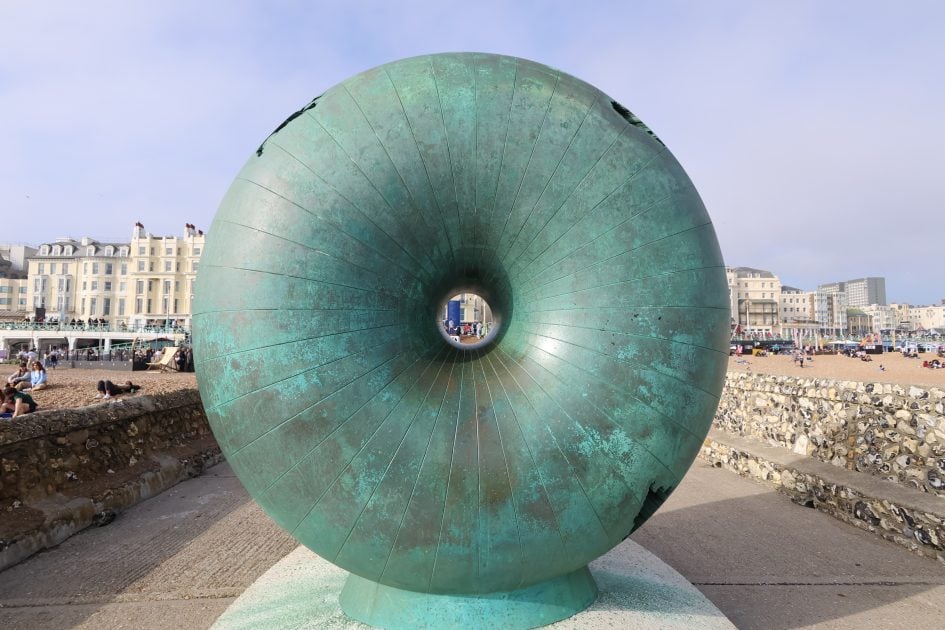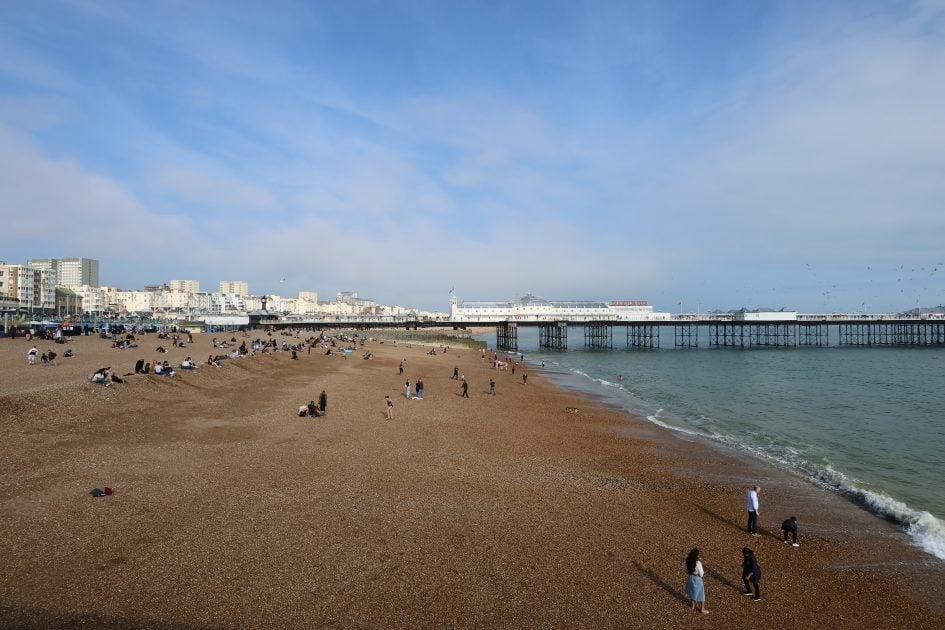 Meanwhile, pushing Info cycles through different views, including one with audio level meters, and you can also enable grid lines for easier framing.
Tapping the Q menu brings up the most common options for the particular mode, which in Auto allows you to adjust the quality, switch between face and single area AF modes, apply a digital zoom, as well as adjusting a colour filter and colour tone. There's no Log nor choice of traditional profiles, but if you still really want to grade, your best bet is to experiment with a muted colour filter.
For more options, enter the menus. The V10 lets you film in 1080 from 24 to 60p or 4k from 24 to 30p, with the frame rates adjusting depending on whether the video mode is set to PAL or NTSC.
You'll also find audio options, including useful auto levels by default, the ND filter mode, and Digital IS options. And if you hadn't already paired the camera with your phone to transfer images and videos, you can set it all up from the menus later.
The V10 also supports UVC and UAC so you can use it as a USB webcam, and it can also live-stream up to 1080 30p. Canon's updated smartphone app makes it easy to get images and footage out of the camera and online.
Ok, let's have a look at some footage starting with coverage, here filmed in 1080p without stabilisation. The ultra wide lens really is grabbing an enormous field of view. Next for 4k where you can see a step-up in detail. Again this was filmed without any stabilisation applied, so there's no crop.
Now for the same view but with basic Movie IS applied. This is digital stabilisation, so takes a crop in return for ironing out some wobbles. I calculated the crop at about 1.1x, turning that 19mm equivalent video coverage into around 21mm.
Now for Enhanced Movie stabilisation, which takes a much more substantial crop, in return for more effective compensation which I'll show you in a moment. This time, the crop is about 1.43x, turning the coverage into more like 27mm.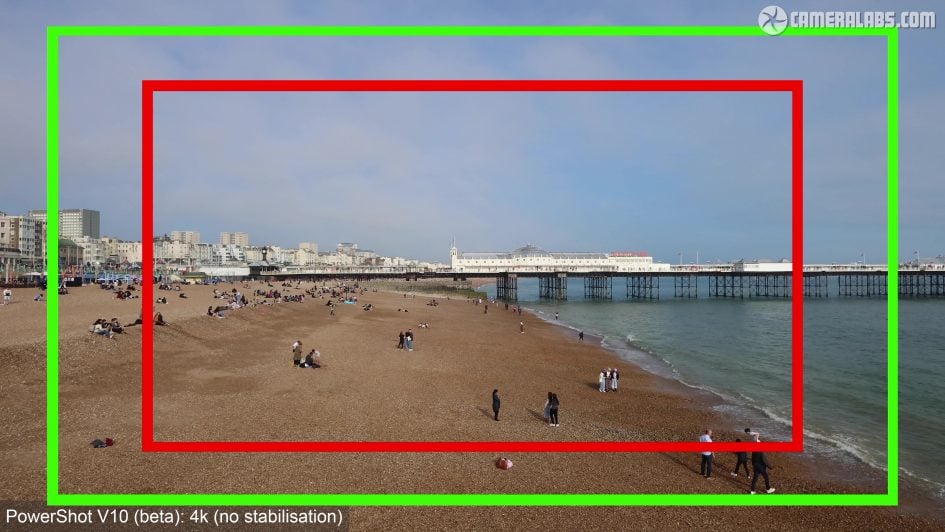 To put their coverage into perspective, I've overlaid green and red frames over the unstabilised footage, where the outer edges represent what you'll capture with standard and enhanced stabilisation respectively.
Canon PowerShot V10 verdict
The PowerShot V10 becomes Canon's best dedicated vlogging camera to date, taking the quality of the G7X III, but crucially repackaging it into a body designed for filming first. I was happy to trade the zoom for a wider fixed lens, with the broader coverage making it perfect for handheld vlogging or maker demonstrations. And while there's no optical IS, the digital stabilisation does a good job at ironing out most wobbles in return for a crop.

The built-in ND filter with an Auto setting keeps your shutter speeds sensible outdoors, the stereo mics are capable of recording great quality audio although there's also a mic input if you need it, and the body fits perfectly into one hand with the record button falling directly under your thumb.

Best of all though is the built-in stand, allowing you to easily angle the camera up or down for very quick setups without worrying about a tripod. Canon's really thought about what video creators need and delivered most of it here.

It's not perfect though: by inheriting the G7X III's sensor, the V10 shares the same contrast-based AF system which can't help but wobble at times. I believe the V10 uses the updated G7X III AF mode, so while it is responsive to changes in subject distance, my beta test sample sometimes focused back and forth more than I personally liked. That said, this AF wobble was no worse than the firmware-updated G7X III, so if you're already satisfied by the performance of that model, you'll be fine here. If you're not though, look for a model with phase-detect AF.

As for the battery, it was good for the quoted hour or so of total filming in practice, and I managed just over 30 minutes of 4k on a single clip. But to achieve the smaller body, the battery itself is internal only, so not user replaceable. Although to be fair, this equally applies to most phones.

And while Smallrig has done a good job with the accessories, I'd have preferred if Canon had already equipped the V10's body with a mount for wind mufflers rather than sticking on third-party rings.

But overall, filming with the V10 was a very positive experience. This is a camera designed for vloggers and video creators first, rather than forcing you to work around the ergonomics of a hybrid camera. I certainly preferred it to the G7X III for filming, and if you were considering that model primarily for video work, I'd definitely now get this one instead.

Check prices on the Canon PowerShot V10 at B&H, Adorama, WEX UK or Calumet.de. Alternatively get yourself a copy of my In Camera book, an official Cameralabs T-shirt or mug, or treat me to a coffee! Thanks!