Nikon Z 24-50mm f4-6.3 review
Intro
The Z 24-50mm f4-6.3 is Nikon's most compact and affordable zoom lens to date covering full frame sensors. It is a single barrel extending design wich can be collapsed down to only 51mm length. And at 192g it is also 300g lighter than the Nikon Z 24-70mm f4 S. The Z 24-50mm f4-6.3 is not an S-line lens and lacks weather sealing, has a plastic lens mount, and comes without pouch or lens hood. But then the lens is sold at a very affordable 350 EUR / 400 USD / 400 GBP – and even less, when it's bundled with a Nikon Z5. The lens is made in China.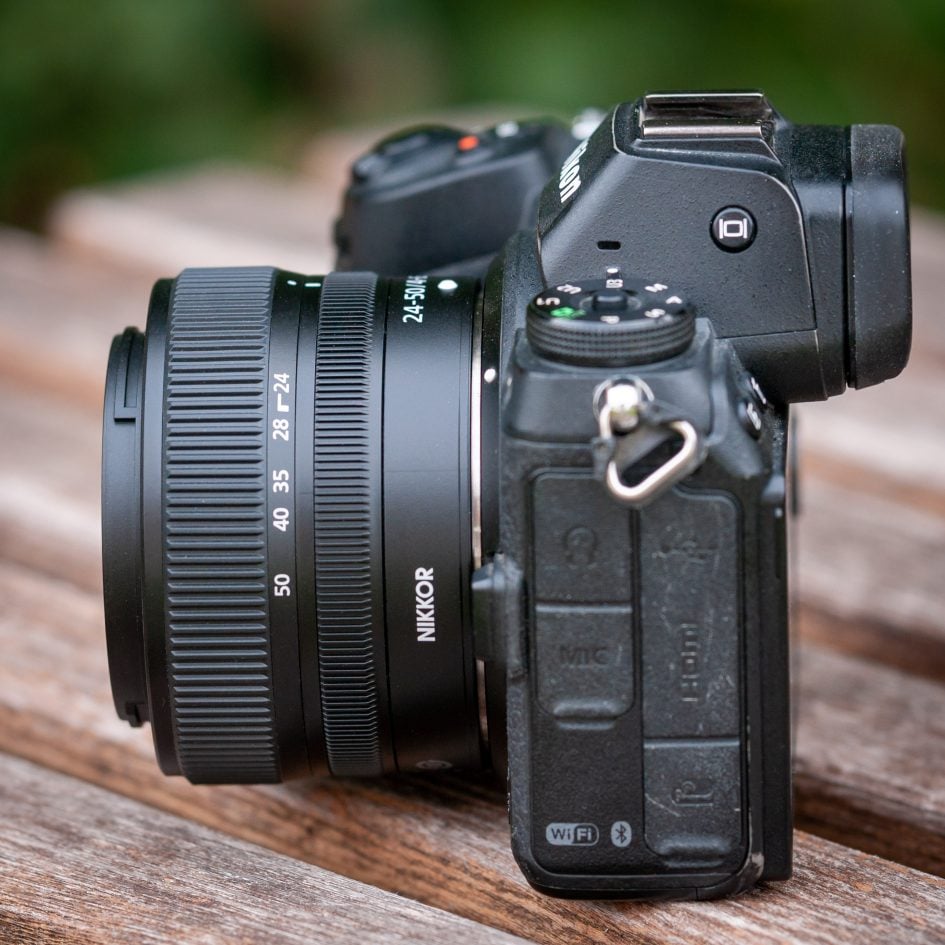 Facts and features
Let's compare the new Nikon Z 24-50mm f4-6.3 ("Nikon 24-50" for short) to the Nikon Z 24-70mm f4 S ("Nikon 24-70/4"). For good measure I've also added the Canon RF 24-50mm f4.5-6.3 IS STM ("Canon 24-50") which was just introduced. As usual I've rated the features with a [+] (or [++]), when it's better than average or even state of the art, a [0] if it's standard or just average, and [-] if there's a disadvantage.
Size (diameter x length): 73 x 51mm (2.9 x 2.0in.) without lens hood which is sold separately. The short length of 51mm is reached only in its collapsed state which shaves 24mm off the operating length of 75mm. Zooming does not change the length significantly. The Nikon 24-70/4 is 78mm in diameter with a length of 88mm in its collapsed state which extends to 138mm at 70mm focal length. So the Nikon 24-50 is much more compact than the Nikon 24-70/4. The Canon 24-50 is 70 x 58mm (retracted). [++]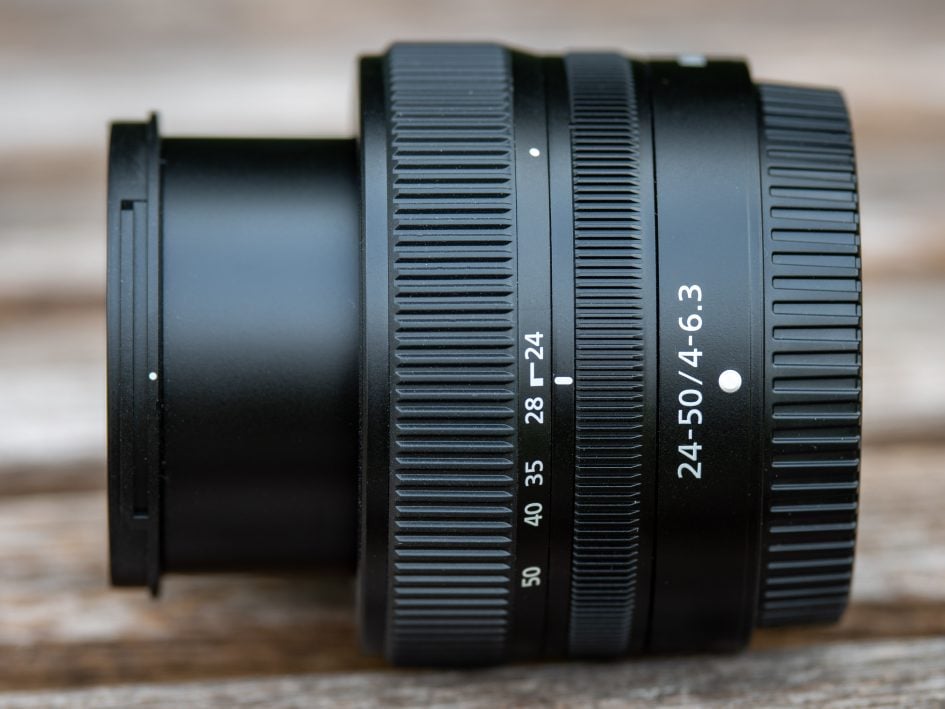 Weight: At 192g (6.8 oz.) the Nikon 24-50 is 300g lighter than the Nikon 24-70/4. The Canon 24-50 is 210g. [++]
Optics: The Nikon Z 24-50mm f4-6.3 has 11 optical elements in 10 groups including two special dispersion elements and three aspherical elements. The Nikon 24-70/4 has 14 elements in 11 groups and has fluorine coating at the front lens to repel water, dust, and dirt and make cleaning easier. The Canon 24-50 is a 8/8 design. [+]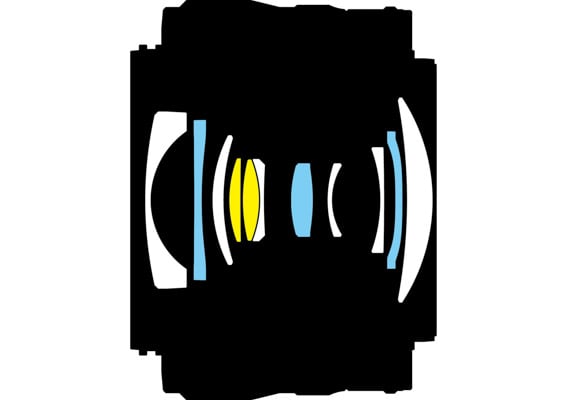 Minimum object distance is 0.31m (1.0ft.) with a magnification of 1:4.6 at 50mm focal length which is not bad and results in a working distance of 0.22m. A magnification of 1:10 is achieved at 0.58m. The Nikon 24-70/4 achieves 1:3.1 at 70mm focal length and 0.14m working distance, the Canon 24-50 achieves 1:5.2. [0]
Focal ratio: The Nikon Z 24-50mm f4-6.3 retains its brightest focal ratio of f4 only up to 26mm focal length where it is slightly reduced to f4.2 and then f4.5 at 27mm. It drops another 1/3 stop to f5.0 at 34mm, f5.6 at 40mm, and f6.3 at 49mm. So, the Nikon 24-70/4 is brighter by 2/3 – 1.3 stops at the long end. [-]
Filter-thread: 52mm. The Nikon 24-70/4 needs 72mm filters, the Canon 24-50 needs 58mm. [+]
Image stabilization: No, both Nikon lenses in this comparison rely solely on the sensor based stabilization of Nikon's full-frame Z-mount bodies. The Canon 24-50 has optical stabilization (IS). [0]
Aperture ring and other control elements: The multi-function control ring of the Nikon 24-50 can be assigned to operate the aperture, exposure compensation, ISO or focus. This is comparable to the Nikon 24-70 and Canon 24-50. But the Nikon 24-50 has no AF/MF switch. [+]
Autofocus: All lenses in this comparison offer autofocus with built-in focus drive. Manual-focus override is by simply turning the control ring – if MF is assigned to it. [+]
All lenses in this comparison cover full frame sensors or can equally be used on a cropped APS-C/DX camera body. [+]
The Nikon 24-50 and Canon 24-50 come without a pouch and the lens hood is sold separately. The Nikon 24-70/4 comes with a pouch and lens hood included. [-]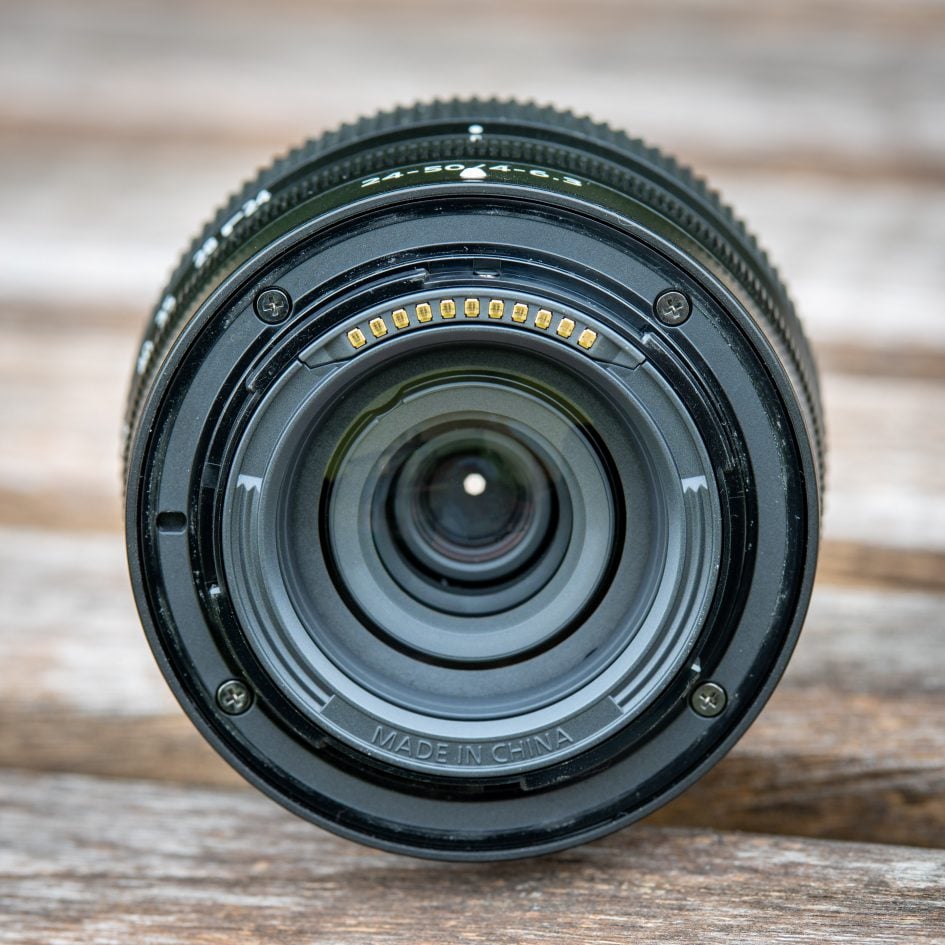 Sealing: There is no rubber grommet at the plastic lens mount or further weather-sealing. The Nikon 24-70 has a rubber grommet at the lens-mount plus further weather-sealing throughout the construction. [0]
Price: The Nikon Z 24-50mm f4-6.3 costs 350 EUR (incl. 19% VAT) / 400 USD / 400 GBP. But if you buy it in a kit together with a Z5 camera it's only an additional 200 EUR. The lens hood HB-98 is an extra 40 EUR/USD/GBP. The Nikon Z 24-70mm f4 S currently sells for 855 EUR / 997 USD / 899 GBP, the Canon RF 24-50mm f4.5-6.3 IS STM is 399 EUR / 299 USD / 379 GBP. [+]
The score of 2[-]/3[0]/10[+] confirms that the Nikon Z 24-50mm f4-6.3 is indeed a very small and light zoom lens that comes at an affordable prize – especially when sold in a bundle. But to achieve this low price Nikon skimped on the lens hood, weather sealing, and lens mount. And at a focal ratio of only f4-6.3 it does not collect much light nor can it offer good background isolation.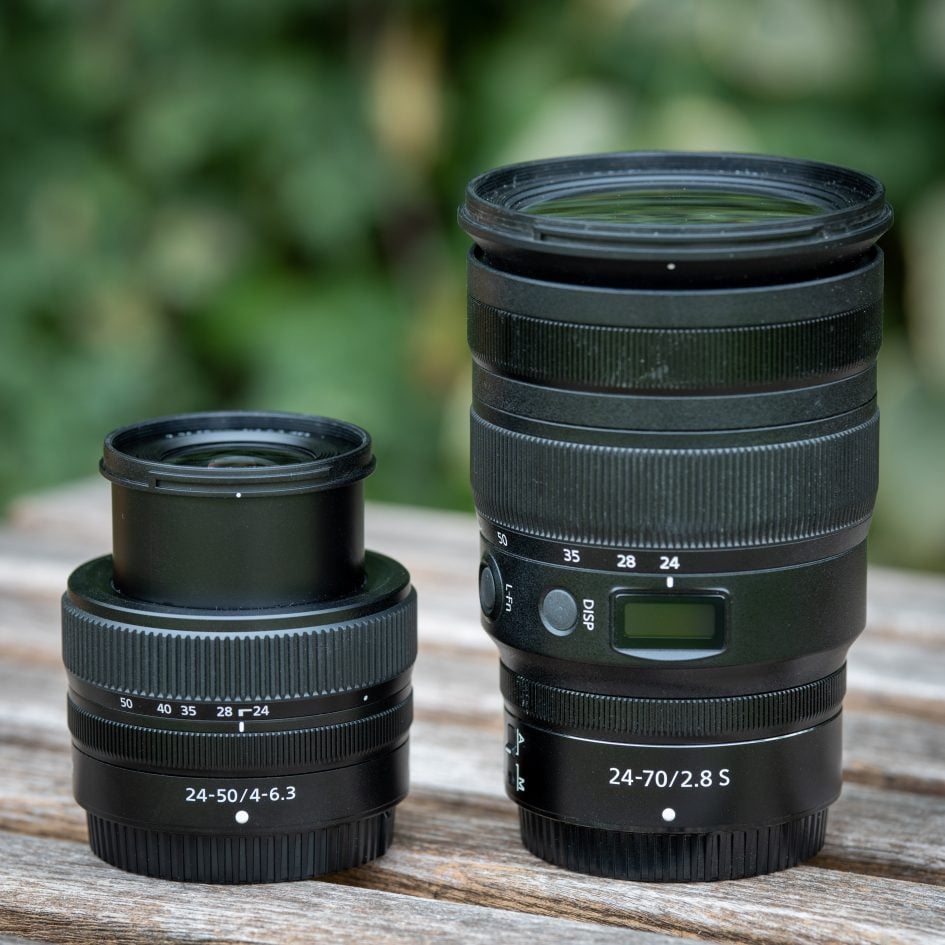 Coverage
With its 2.1x zoom-range the Nikon 24-50 covers angles of view from 84 degrees to 47 degrees (diagonally) – which is not much: A 24-70mm zoom lens extends the reach by 40% with a clearly tighter angle of view at the long end as you can see below:


To get the same angle-of-view of 70mm focal length you need to crop 1.4x into an image shot at 50mm. This would result in a reduction of resolution from e.g. 45MP to around 23MP or 24MP to 12MP if you use a Z5. Which might still be enough for the intended purpose.
Mounting the Z 24-50mm f4-6.3 on a cropped sensor body like the Nikon Z 30 results in a further reduction in angle of view equivalent to 36-75mm focal length. While this certainly provides a nice walk-around coverage Vloggers using a DX Z camera body handheld should go for a shorter focal length at the wide end like the Z DX 16-50mm f3.5-6.3 VR which also offers the benefit of image stabilization on the non-stabilized DX bodies. Another alternative might be the future Z DX 12-28mm PZ.

Focus and zoom
Focus accuracy and repeatability is critical to consistently produce sharp shots. Repeatability (the accuracy of focus on the same subject after repeated focus-acquisition) of the Nikon Z 24-50mm f4-6.3 is very good (measured 99.4% in Reikan FoCal) with no outliers over a series of 40 shots. At 50mm focal length the lens focuses in around 0.3 sec from infinity to 0.58m (1:10 magnification), which is very fast and comparable to the Z 24-70mm f4 S.
The zoom ring has a very short throw of 39 degrees between 24mm and 50mm focal length. It has a 14mm wide rubber surface with a good grip and can easily be operated with one finger. But turning the zoom ring from 24mm to retract the barrel needs more force and hardly will happen inadvertently. The lens shows no zoom creep. The focus/control ring is 8mm wide and is located closer to the camera. It has no rubberized surface but moves super smooth and can easily be operated even with your pinky.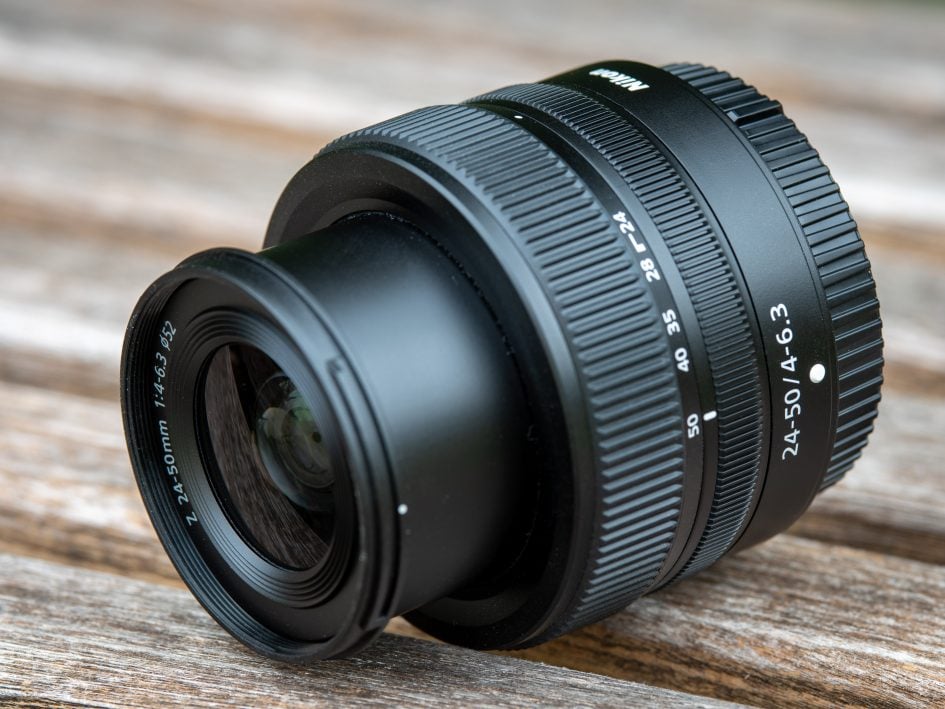 AF-operation of the lens in photo-mode can hardly be heard from the outside but if you record video with the built-in microphone AF registers as a low buzz.
As you pull focus, you'll notice very little focus breathing: the image became 2% more magnified when I adjusted focus from infinity to 0.58m at 50mm focal length and even less at 24mm focal length. This is hardly distracting when shooting videos.
I also tested whether Nikon's zoom lens allows you to change the focal length without altering its focus. This characteristic is called parfocal. I focused the lens at 50mm and then zoomed back checking focus on the way. The Z 24-50mm f4-6.3 is almost parfocal – but not quite perfect. See the following 100% crops shot at f5.6 and a focal length of 41mm before and after re-focusing:

This small focus error probably is not relevant when shooting video, but when shooting stills it's best to re-focus after changing the focal length.

Next check out my quality results!

Check prices on the Nikon Z 24-50mm f4-6.3 at B&H, Adorama, WEX UK or Calumet.de. Alternatively get yourself a copy of my In Camera book, an official Cameralabs T-shirt or mug, or treat me to a coffee! Thanks!